SERIES
Series Dates: May 2-June 13, 2021
SERIES OVERVIEW
What does it mean to be the bridge?
How can the Church live into her full redemptive potential, prioritizing and modeling the unified Kingdom community? Jesus gave his life to create this community! PCC, let's be the bridge to our pluralistic society, going to the people with other-worldly, Christ-centered, Spirit-empowered unity.
In striving to promote unity in the church, one might be tempted to avoid topics of race and justice. Even mentioning them stirs up a range of emotions among God's people. It's not divisive to talk about division, it's divisive to ignore division. If PCC is to pursue the kind of unity that Christ calls us to, then it is essential that we learn how to find our ultimate identity and unity in the gospel of Jesus Christ.
Will PCC be bridge builders or barrier builders? Will PCC be color blind or color brave? We invite you to join us at PCC for Be The Bridge. a series where we will paint a picture of the Kingdom community that PCC is called to be!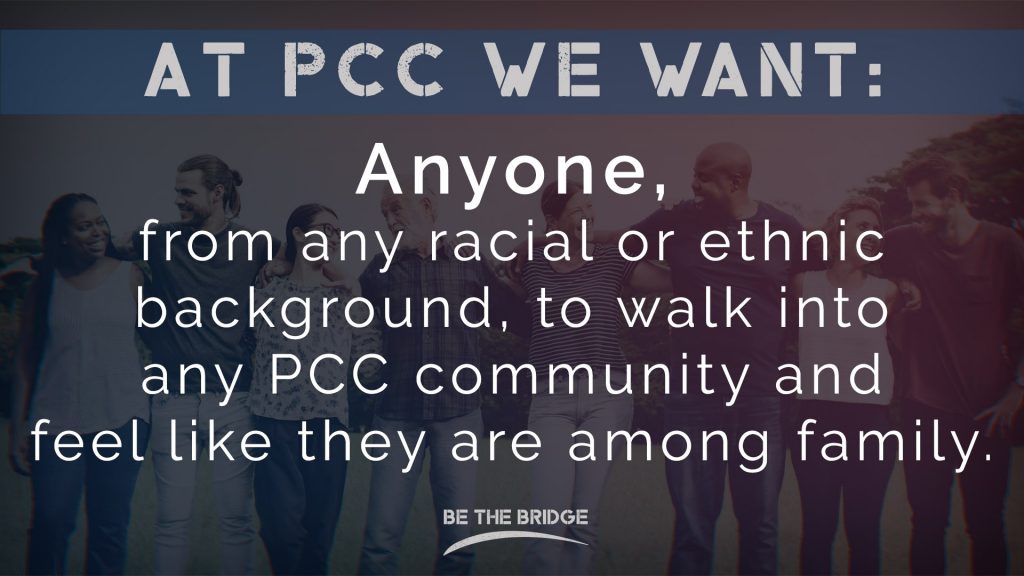 WATCH SERIES MESSAGES
ABOUT THE BOOK
Step 1: Join a Be the Bridge Group!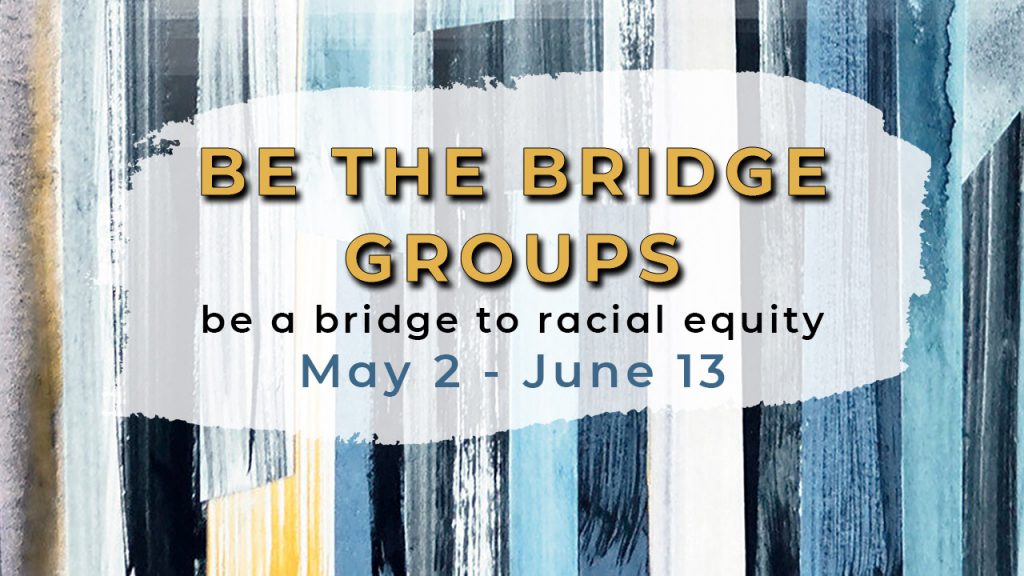 Series Message Summaries
May 2 — Unity in Diversity
The body of Christ is a multicultural citizenry of an otherworldly kingdom which alters the way we live in this ever changing peninsula. God's heart is for unity among his children. Be a Kingdom bridge builder to a lost and broken community.
Book: Chapters 1-2
May 9 — An Invitation to Empathize
What is the power of empathy, listening, and lamenting? PCC, let's allow ourselves to truly feel empathy our neighbors in their pain and engage in biblical lament.
Book: Chapter 3
May 16 — Reconciliation
Reconciled people reconcile with people—to what extent do you feel reconciled to God? Tear down walls and build bridges of reconciliation with others.
Book: Chapter 4
May 23 — Where the Healing Begins
What is confession? And how powerful is the practice of confession? If we have a genuine desire for oneness, there is a freedom that comes with that. James 5:16 teaches "…confess your sins to each other and pray for each other so that you may be healed. The prayer of a righteous person is powerful and effective."
Book: Chapter 5
May 30 — The Power of Forgiveness
Forgiven people forgive people. When a person feels forgiven by God, that person is likely to forgive others more readily. Are you living your life with a sense of God's forgiveness? Practice forgiving others, as a forgiven child of God.
Book: Chapter 6
June 6 — Redeeming the 'R' Word
Repentance. What is it and what kind of power does it wield? Once we repent, an eagerness builds toward changing our minds and changing our actions. What are some tangible acts of repentance you could apply toward a neighbor?
Book: Chapters 7-8
June 13 — Make Us One!
If we, as a church community, reflect unity, we will be far more believable in our roles as trusted restorative reconcilers. Become a lifelong ambassador of Kingdom restoration.
Book: Chapters 9-10