Do you care about Biblical Justice?
If you are interested or open to more information about needs and issues within our local and global communities, please fill out the interest form below!
Continuing the Conversation
Last Sunday of the Month • 12:00 pm • Fellowship Center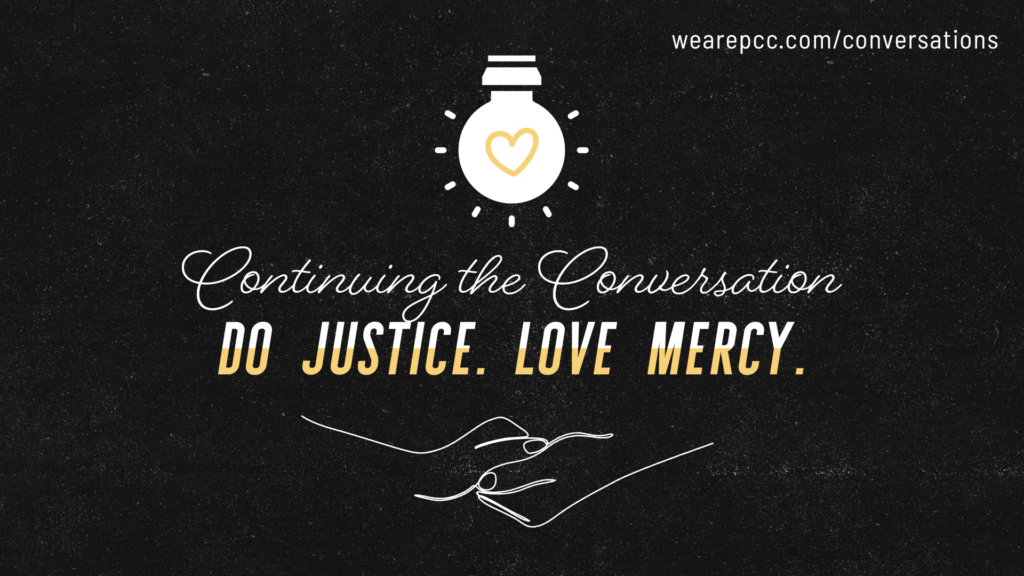 Come be encouraged to learn how God calls us to do justice and love mercy, empowered by the faith, hope, and love of Jesus
Join us for prayer, discussions, panels, movies, and small groups, for times of listening, sharing, and snacks, and be led by the Holy Spirit to bring the light of Jesus into your spheres of influence
Be blessed by a community of devoted brothers and sisters in Christ, who daily walk with the compassion of Jesus reconciliation, biblical justice, and mercy
For more details and to sign up for the next lunch click here or below
Sign up for a small group
Do Justice, Love Mercy
Reflecting God's Diversity in Imago Dei (image of God)
VISION: That anyone, from any racial or ethnic background, walking into any PCC Community, experience being accepted and known.
MISSION:
DJLM leads people to justice with kindness and humility, knowing that all are made in the image of God (Imago Dei)
DJLM recognizes we are one body with many members, with varying perspectives & experiences. We seek to pursue justice in love, grace and truth.
DJLM's goal is to move people into authentic and healing relationships that align with God's call and character for justice.
Six Fold Multi-Ethnic Ministry Test
Population: Is PCC reaching increasing numbers of people among increasing numbers of populations?
Participation: Are we finding ways to engage life together through worship, groups, and events, service and fellowship?
Power: Are the positions and structures of influence (LST, Lead Team, staff and lay leadership) influenced by the perspective and gifts of diverse populations?
Pace-setting: With additional perspectives, burdens, and gifts in out midst, what new ministry opportunities is PCC becoming better positioned to strengthen and initiate?
Purposeful Narrative: How do the stories of new backgrounds become incorporated into our overarching history? How do all of these streams flow together into one story moving forward?
Practicing Solidarity: In what ways are we standing with and advocating for a multiethnic community? How are we sharing in the suffering of others on both an individual and communal level?
Core Team
Resources to help encourage racial sensitivity.
The Diversity & Equity Priority (along with Family Table and Mobilization Priorities) was established in Summer 2020. The Committee on Racial Reconciliation and Equity (CORE) leadership team consists of Brian Rhen, Grace Wang, Paul Richards, Patricia Ortiz, Jackie Hwang, Lisa Sobomehin, and Sharon Seeberger.
Get Involved
PCC is committed to Biblical justice. You have opportunities to engage in the community that will allow you to truly be a bridge, help right wrongs from the past, and restore relationships. Click here to see the ways you can do this.
Want to be in a

Be The Bridge

Group?
Are you new? Or perhaps you have not yet participated in a Be The Bridge group? Here is your chance to join! Click to register for an upcoming group.
Standing with Our Denomination
PCC stands firmly behind the position of the statements made by our denomination, The Evangelical Covenant Church (ECC).