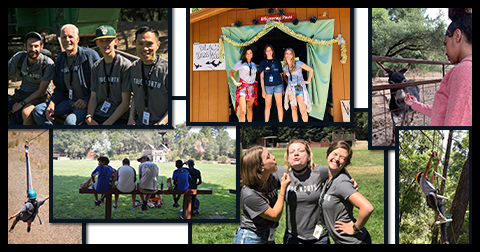 Sunday, August 1 — Friday, August 6
LOCATION: Frontier Ranch at Mission Springs, Scotts Valley

About Signs of Hope Camp
Signs of Hope camp provides an opportunity for 65 foster and adopted children to spend the last days of summer learning about God's love and grace along with other campers who have similar life stories. By providing a fun and safe environment, campers are able to make and strengthen their connections with other campers, counselors, and God.
Through our partnership with Help One Child, this overnight summer camp for children 7-11 years of age is held at Mission Springs' Frontier Ranch in the Santa Cruz Mountains.
Life Changing — for you and the kids!
You can make a difference in igniting a fire for God in the next generation!
We want to mobilize the body of Christ to demonstrate the love of Christ—through building relationships with children who come from hard places.
Click the button below to begin the Camp Counselor registration process.
QUESTIONS?
Email: Orphans & Vulnerable Children Director, Holly Stewart