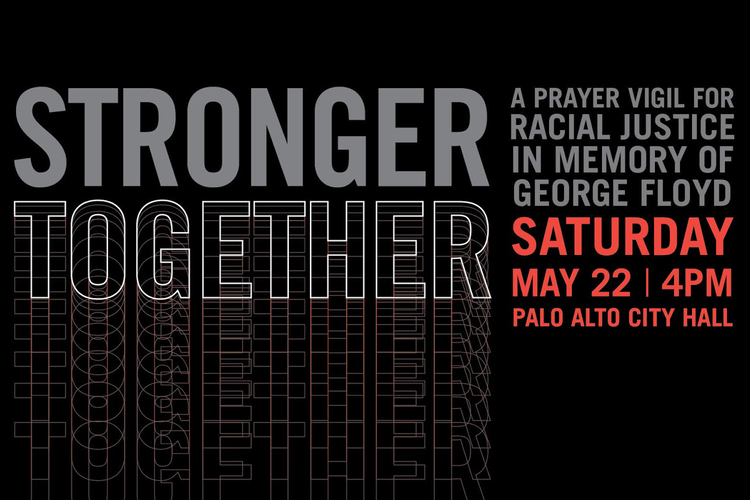 Stronger Together
A Prayer Vigil for Racial Justice
WHEN: Saturday, May 22, 2021
TIME: 4pm-6pm
WHERE:
Palo Alto City Hall
250 Hamilton Avenue
Palo Alto, CA 94301
Click for map
PCC stands firmly with those helping to bring racial equity to all in our community, country, and around the world. Please learn more about our position on our racial justice page.
About This Prayer Vigil
As followers of Jesus Christ, we believe that we must stand together in unity and in prayer against racial injustice and xenophobia in our land. In the past year, the horrific murder of our brother George Floyd brought an awakening to the Church and to believers across denominations, ethnicities, and Christian communities. The surge in Asian hate crimes further made clear that, together, we must continue to fight and pray against division and violence. As we approach the 1-year anniversary of George Floyd's death, we respond to the Holy Spirit's invitation to lament, confess, and intercede for racial justice and safety for all people in the Silicon Valley and in our country.
Join us as we partner with many Bay Area churches to gather in the outside, front area, near Palo Alto City Hall, for this vigil of prayer, remembrance, and declaration of hope in the Kingdom of God.
All are invited to pray and be present at the event.
Please note:
In compliance with the Centers for Disease Control and Prevention (CDC) guidelines and to ensure that there will be a safe experience for everyone in attendance, social distancing and masks will be required. We are taking these protocols seriously so that we can gather and pray with confidence.