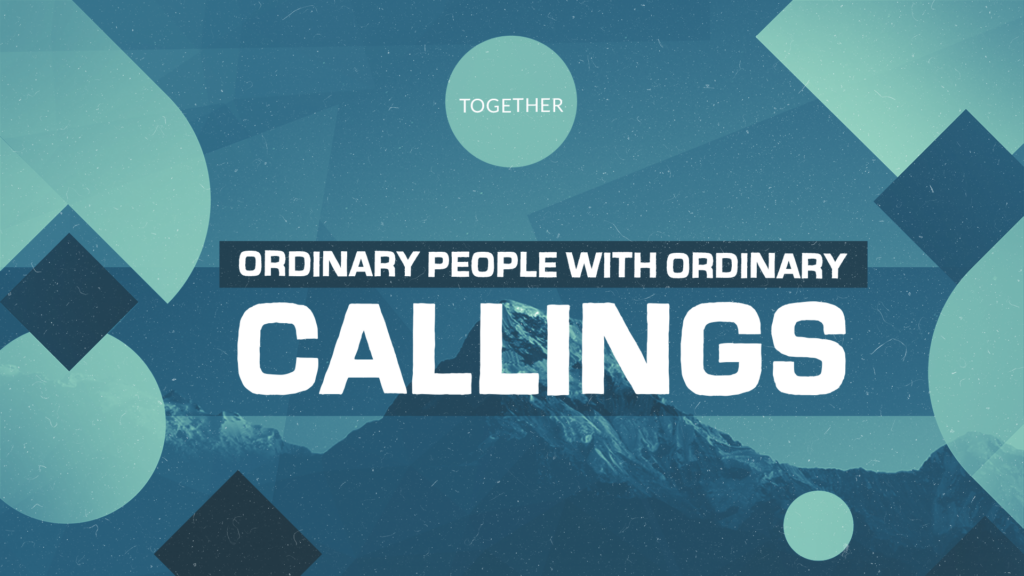 The good news is that God has a call on every individuals' life that He has created.
Living into your call can happen through faith in Christ and following the leading of His Spirit. The reality is that understanding our calling gives deep meaning and purpose to life. Furthermore, if we all would focus on our callings together the kingdom impact in our families, communities and world would be exponential.
During this 9-week series, we will focus on what it means to be called by God. Simply put, we are Ordinary People with Ordinary Callings. We each have an ordinary call that takes a unique shape in a specific place. Our ordinary call is 3-fold: Loving God & others (Connection – Matthew 22:36-40), making disciples (Multiplication – Matthew 28:18-20) and healing a broken world (Restoration – Matthew 6:10). The SHAPE it takes is based on our Spiritual gifts, Heart, Abilities, Personality and Experiences. The place we find ourselves is where God has positioned us in the world for His work to be completed.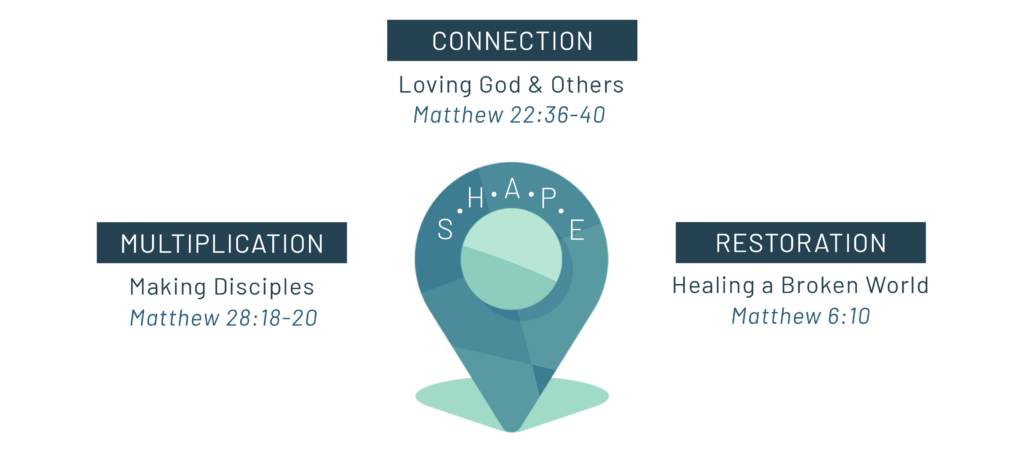 Hence, our call is not a mystery or a one time thing that takes years in the making. For every season, God makes clear our call. In many ways, it is right before us within the proximity of the people and problems around us.
Fredrick Buechner may have said it best.
"The place God calls you to is the place where your deep gladness and the world's deep hunger meet."
To live into our call takes faith, intentionality, and clarity in understanding our SHAPE. Plus, it takes connection with God, perseverance and the support of others. Yet, in the end it brings great satisfaction.
Understand we each have a call to a specific time and place that has a unique shape
Own our calling of Connection (love God & others), Multiplication (make disciples) and Restoration (heal a broken world)
Be inspired to the ordinary people in the Bible who had ordinary callings
Provide opportunity for individuals to discover their

SHAPE

May 1
INTRO: GENERAL CALL
Scripture: 1 Corinthians 7:17, Matthew 22:36-40, Matthew 28:18-20, Matthew 6:10, Ephesians 2:10
Gathering: 10:30am
May 8 — Mother's Day
DEBORAH
Scripture: Judges 4 & 5
Gathering: 10:30am
May 15
LABORERS / CRAFTSMEN
Scripture: Exodus 31
Gathering: 10:30am
May 22
FAITHFUL 4 ROOFMATES
Scripture: Luke 5:17-39
Gathering: 10:30am
May 29
PHOEBE / LYDIA
Scripture: Romans 16:1-2, Acts 16:11-15
Gathering: 10:30am
June 5
TIMOTHY'S FAMILY CALLING
Scripture: 2 Timothy 1:5; 3:14-17
Gathering: 10:30am
June 12
WOMAN AT THE WELL / SALOME
Scripture: John 4, Mark 16:1-8
Gathering: 10:30am
June 19 — Father's Day
JOSEPH
Scripture: Matthew 1 & 2
Gathering: 10:30am
June 26
WORSHIP & PRAYER EXPERIENCE
Scripture: Ephesians 2:10
Gathering: 10:30am

Beyond Sunday
SHAPE Inventory
Spiritual Gifts Assessment
Coaching Men and Women
Purpose Driven Life
30 Discipleship Questions